I write this post with a great deal of pride and love. My wife, Edie, turns 72 tomorrow and is as vibrant, beautiful and full of life as she was the night I met her. She has undergone some challenges in her life but she has come through it all with an energy and enthusiasm that still amazes those who know her.
Physically, she has made it through a challenge of breast cancer (after the death of a younger sister from the disease). She's had an ongoing struggle with Polymyositis, an inflammatory and degenerative muscle disease caused by a problem with her immune system. Many people with Myositis allow themselves to wither away; Not her. Going to the gym and using the equipment has kept her muscles strong and healthy. She has had a knee replaced and was up and about almost as soon as she got home from the surgery, without relying for long on the usual cane and walker. Yes, she did all the exercises the doctor told her to do (with a little prodding from me).
Her friends of around the same age are also energetic and alive. Yesterday, she went to a reunion picnic of retired teachers at the school where she taught for much of her career. Most of them are active and filled with life. They had a ball.
We also get together annually with another group of retired teachers and their spouses from the school where she spent the first half of her 34 year active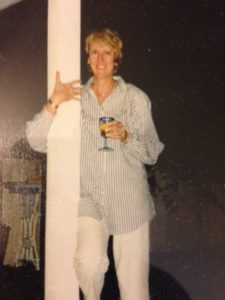 teaching career. They are also active and energetic and filled with life. Neither group complains much, even though when older people get together it usually turns into an "organ recital". You know: kidneys, liver, stomach, heart, shoulders, aches and pains and other organ problems. Sure, there's a little of that but not a lot, and any complaints are usually accompanied by laughter.
She attributes some of her vitality and energy as being the result of teaching young and energetic children for 34 years as an active teacher, and for 15 more (so far) in the classroom three or four times a week as a substitute teacher. She doesn't sit at a desk. She is constantly in motion in the classroom, moving among the children, bending over, twisting and turning, and getting up and down from the same tiny chairs that the children use as she interacts closely with them. She has told me that getting in and out of those "miniature" chairs is the most tiring part of it all. She loves the kids, and over the years, many have stayed in touch with her.
She also goes to the gym, including attending an exercise class twice a week. Even though the class is targeted for younger people, there are a lot of seventy year old men and women, who seem to do just fine with the strenuous exercises and stretches that they do.
Oh, and she also volunteers at the hospital one day a week where she makes beds, hauls too many overweight patients around in wheelchairs, and does a lot of the "heavy lifting" in the surgical recovery unit. She loves it.
Her secret to staying energetic and vital? Move your body. Hang out with energetic and enthusiastic people with a positive outlook on life. Being around, and participating in the energy of elementary school kids. Watching the light come on in the children's eyes as they learn is a powerful stimulant for positive aging.
Edie and I have been together for nearly 41 years and we energize and vitalize each other. I wouldn't have it any other way.
And here's a note at the bottom of an email sent today by her former Principal at the Elementary School where she spent the first half of her teaching career:
"Count your life by smiles, not tears, count your age by friends, not years, and remember we do not quit playing because we grow old…. we grow old because we quit playing"  — anon.
Happy birthday kid. May you have many, many more!
Thank you for reading this heartfelt message.